The Central Shenandoah Valley Master Gardeners are involved in many projects in our community. Below is a listing of some of those projects. Should you have questions regarding these activities or to learn more, contact: csvmga.vol.coor@gmail.com
HELP LINES  - AUGUSTA COUNTY & ROCKINGHAM COUNTY 
Residents can get answers to their horticulture questions by emailing, calling or visiting the Rockingham County or Augusta County Extension Offices.
Augusta Help Line is located at the extension office in Verona and is staffed on Mondays and Wednesdays from April – September. Questions received other times of the year will also be answered. More Information
The Rockingham County Extension Office in Harrisonburg is staffed on Tuesdays and Fridays April-September. Questions received other times of the year will also be answered. More Information
HELP DESKS 
Harrisonburg Farmers Market

Visit us at the Harrisonburg Farmers Market every Saturday from April through October. Ask us a gardening related question, pick up a soil test kit or learn more about our organization. More Information
Staunton Farmers Market

Master gardener volunteers set up an information table at the Staunton Farmers Market in the Wharf area the second and fourth Saturday of the month from April through October. In addition to answering questions and offering educational materials there is a children's activity and an educational theme. More Information
AUGUSTA & ROCKINGHAM COUNTY FAIRS

Stop by our information table in the horticulture building at the Rockingham County Fair and the Exhibitors Hall at the Augusta County Fair to ask a gardening question, learn more about becoming a master gardener or participate in a short youth activity. We will also have information about our upcoming events, soil test kits and other horticulture information of interest. More Information
EDUCATION GARDEN 
Visit the education gardens located at the Rockingham Extension Office.  Experience the rain garden, native pollinator garden, compost area, and raised beds. Our goal is to have educational events and signage to help individuals learn about more sustainable gardening. More information.
EDUCATIONAL WORKSHOPS
Hands-on educational workshops led by master gardeners. Workshops include Winter Seed Sowing, Composting, Vermicomposting (composting with worms), Gardening in Raised Beds & Containers, House Plants, Beneficial Insects, Native Plants & Pollinators, and more. More Information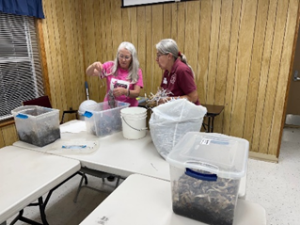 PLANT SALE AND GARDEN FEST 
Sale of plants grown by our members including perennials, shrubs, vegetables, herbs, natives, house plants at reasonable prices. This event has been expanded recently to include vendors selling garden related items and food.
Spring Plant Sale and Garden Fest is the Saturday before Mother's Day at the Rockingham County Administration Building. More Information
Our Fall Plant Sale is held in mid-September at Verona Methodist Church Parking Lot.