Purchase plants grown by Master Gardeners, including: flowers, fruits, vegetables, trees, and shrubs during our in-person plant sale. Event to be held at the Rockingham County Administration Offices located at 20 East Gay Street, Harrisonburg between 9AM – 1PM on Saturday, May 14.
Keep in mind our Virtual Plant Sale beginning April 28 through May 17 (depending on plant availability): https://csvmga.org/event/spring-plant-sale-virtual/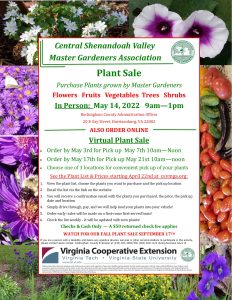 For more details, see the flyer for this event (PDF)
This event is at the following location: 20 East Gay Street, Harrisonburg, VA 22802 (Rockingham County Administration Offices). A map of the location is below.