Purchase plants grown by Master Gardeners, including: flowers, fruits, vegetables, trees, and shrubs! Sale ends on Thursday, May 19 at 8PM. View the current Plant List & Pricing: Plant Sale Catalog_CSVMGA (5-19-2022)
NEW! "Buy 1-Get 1 Free" for Yellow reblooming Daylilies & Siberian Iris
Plants ordered by the deadline will be available for pick-up on Saturday, May 21 (10AM – Noon). You can choose from three (3) separate pick-up locations in downtown Harrisonburg, Rockingham – Pleasant Valley area, and Verona. Upon submitting your order, you will receive an e-mail confirmation. When picking-up your order, simply drive through and pay (checks and cash only) – we have volunteers who can assist loading your plants into your vehicle.
Follow this link to access the Plant Sale Order Form to place your plant order(s): CSVMGA Plant Sale Order Form
Note: the Plant Sale Order Form is now available in a fillable PDF format. Download the Order Form, type in your information, save the file, and e-mail it to the contact listed on the bottom of the form.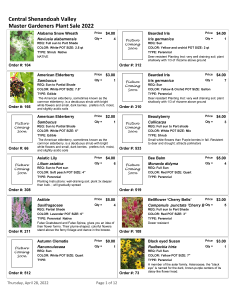 This event is at the following location: Virtual. A map of the location is below.