Join the Central Shenandoah Valley Master Gardener Association (CSVMGA) for a virtual Terrarium Workshop on Saturday, March 20 (10AM – Noon). The workshop will be conducted via Zoom, and is limited to the first 20 registrants. Registrants will receive a confirmation via e-mail approving their attendance at this workshop. Please see the registration details attached below. Materials for the workshop will be prepackaged, and must be picked-up by the registrant from a to-be-determined location on Friday, March 19 between 2pm – 4pm.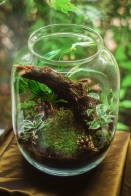 The fee for this event is $25
For more details, see the flyer for this event (PDF)
This event is at the following location: Virtual event via Zoom. A map of the location is below.