Join CSVMGA for a succulent hanging basket class on Saturday, September 24 from 10AM – Noon. The class will include information on soils, grouping plants based on their cultural needs, and plant propagation. Participants will then receive instruction, the container, all of the plants and materials required to assemble a hanging succulent basket.
Please register by completing the form and mailing it with your $20 check: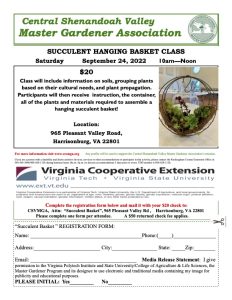 The fee for this event is $20
For more details, see the flyer for this event (PDF)
This event is at the following location: 965 Pleasant Valley Road, Harrisonburg, VA (Rockingham County office of Virginia Cooperative Extension). A map of the location is below.