Purchase plants grown by Master Gardeners, including flowers, fruits, trees, shrubs, as well as garden tools and accessories. You can also enjoy garden talks – and youth are encouraged to join us for a special activity. Food available for purchase from the Rockin Shots 4-H Club.
All proceeds from the plant sale go toward providing scholarships to graduating high school seniors, youth programs, and administrative costs for the organization.
Look forward to seeing you there!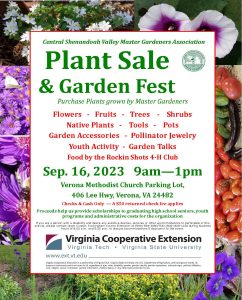 CSVMGA Fall 2023 Plant Sale & Garden Fest (9-16-2023)
For more details, see the flyer for this event (PDF)
This event is at the following location: Verona Methodist Church, 406 Lee Highway, Verona VA 24482. A map of the location is below.