Join the Central Shenandoah Valley Master Gardeners for a vermiculture workshop at the Rockingham County Extension Office (please note the same workshop will be offered at the Rockingham County Extension Office in Harrisonburg on October 1, 2 – 4pm).
Learn about composting during the first portion of the workshop (free) from 2-3pm. If you are interested in creating your own worm bin, stick around from 3-4pm (Adults $15; Youth $7… fee includes all required materials).
Please complete the registration form attached below to register.
Direct any questions to: csvmga.vol.coor@gmail.com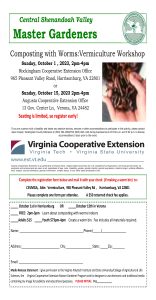 For more details, see the flyer for this event (PDF)
This event is at the following location: 13 Gov. Center Ln, Verona, VA 24482 (Augusta County Extension Office). A map of the location is below.